Project Bikes & Technical Services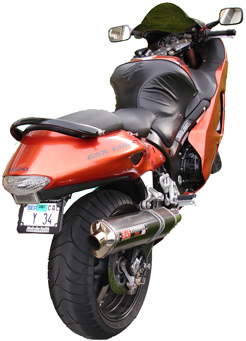 Avery's personal 179HP Hayabusa
IRS Media's technical expertise is legendary, having prepared motorcycles for various forms of dual-sport, touring, long distance pavement rally use, and even round-the-world adventure tours.
Our technical services include:
* Service & modification for specialized personal use
* Modifications for entertainment industry clients
* DualSport "aggressive" or standard use
* Audio, GPS, XM, Intercoms and Electronics
* Graphic design & custom paint partners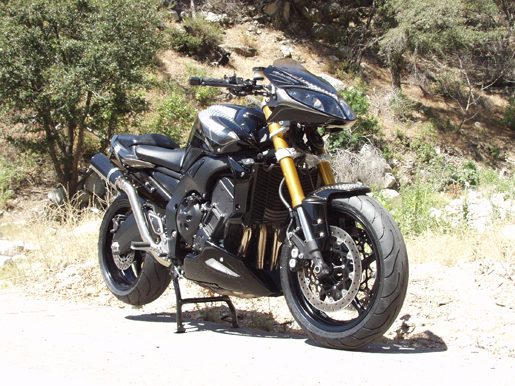 Jillian's Ride from "The Biggest Loser"
Partnering with the Discover Today's Motorcycling section of the Motorcycle Industry Council, Avery Innis produced a radical, street-fighter version of a 2007 Yamaha FZ1.
Ridden, and eventually purchased, by Jillian Michaels on the hit NBC television show "The Biggest Loser", the "Black Stiletto" combined design elements from Mr. Innis and Jessica Prokup of Discover Today's Motorcycling.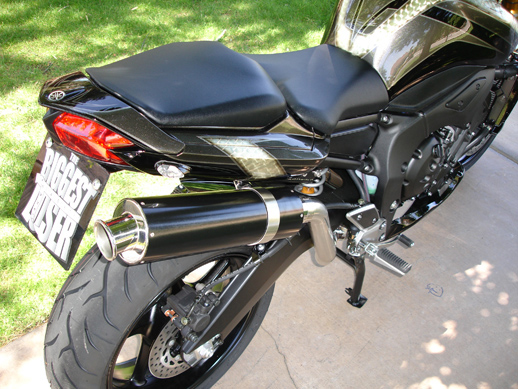 Troy Lee paint sets off the high-mount exhaust
Not just eye-candy, the bike had increased performance, revised controls and was sprayed with a ebony and metallic paint scheme from legendary painter Troy Lee.
The IRS Media shop phone rang and on the other end reps from the DTM and Honda said they needed someone to transform a VTX1300 cruiser into a bad machine for the upcoming Quentin Tarantino movie production: "Hell Ride". The catch? They needed it in two weeks and it needed to look like a high-desert drug-cooker customized it with a spray can of black paint."!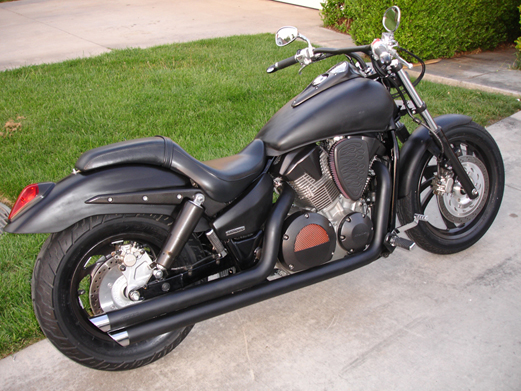 Click the picture to read more about the "Machete" VTX1300 movie bike
Avery took this challenge as the bike's pilot, actor Francesco Quinn, is a life-long rider and a motorcycling training advocate for years, is such a cool guy, how can he refuse?
Using different shades of black, silver and gray with ranges of finish from gloss to matte, Avery completely disassembled the motorcycle converting every painted, polished and chromed surface on the bike. Tossed was the standard headlamp and a radical three-beam spot-light landed in its place. Performance and sound was upgraded so Francesco had a mount to rival any rumbler that ever wheeled across the silver screen.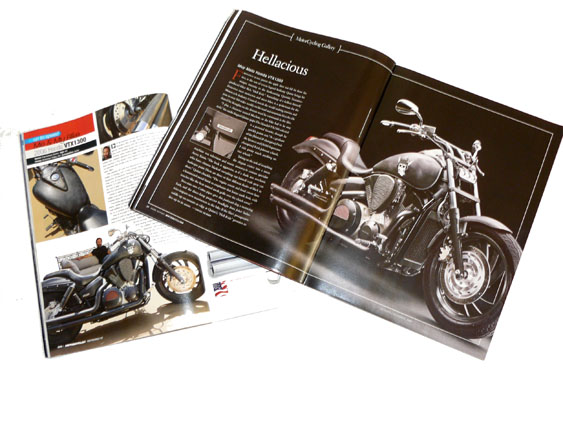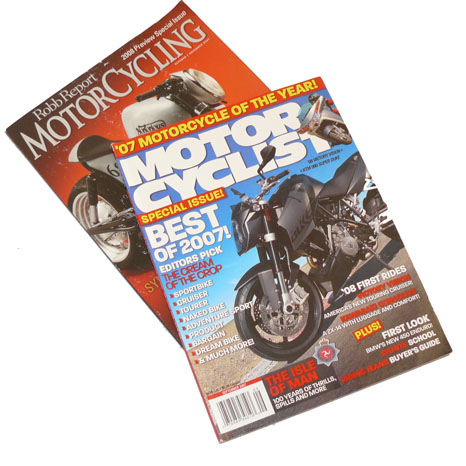 Evidently the pressure of the modification schedule created some visionary juice and industry and lifestyle magazines immediately understood the bike's mission. Motorcyclist and the Robb Report were two of the publications to honor Mr. Quinn, Avery Innis and their evil concoction – the "Machete"!
Click on the IBR bike to learn more!
When American Suzuki's Bob Mueller wanted to build a bike to tackle the rigors of the Iron Butt Rally (IBR) he asked his good friend Avery Innis of IRS Media to modify his DL1000 V-Strom.
When you ride 11,000 miles in 11 days you better know where the heck you're going! The electronics Avery installed on Bob's bike keeps him aimed in the proper direction, provides him entertainment and communications – including a satellite uplink that allows friends to track his progress in the rally.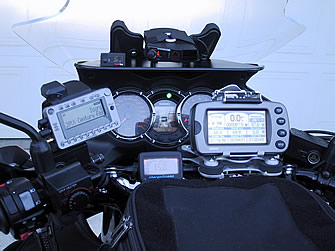 GPS, XM, radar dectection and a satellite uplink are among the goodies...
Bob finished and got a medal in the 2005 IBR and used his V-Strom (with upgrades from Avery) to again finish the 2007 edition of this famous long-distance riding rally. The bike and its systems have proven so reliable, that Bob plans to use the V-Strom again in the 2009 IBR!
CLICK HERE to read more about Bob's adventures.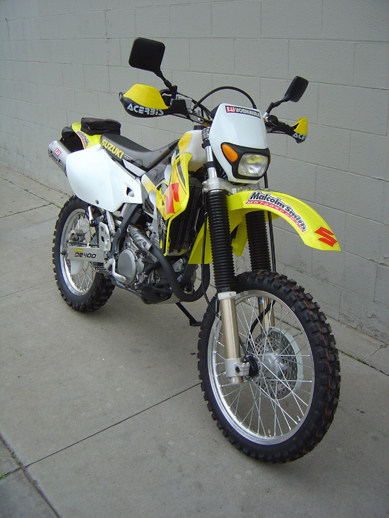 Avery Innis designed Malcolm Smith Motorsports DR-Z400 Super Dual Sport
Avery Innis is recognized as the industry's expert on Suzuki DR and DR-Z models; especially the DR-Z400 in it's various versions. During his stint at Suzuki, then again at Malcolm Smith Motorsports and now as the technical leader of IRS Media, Avery compiles fully functional DR-Z specialty bikes that weight less, handle better and flat-out fly.
Recently a number of Suzuki DR-Z400SM Super Motard models have been fortunate enough to get the "Doctor DR" touch from Avery. After all, motorcycles are supposed to be fun and nothing is quite as much fun as a Avery Innis' prepped DR-Z!